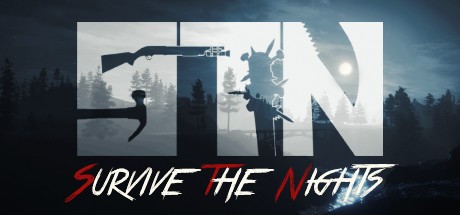 Kategorien:

Publisher:

a2z Interactive

Entwickler:

a2z Interactive

Releasedatum:

21. Dez 2017

(vor 5 Jahren)
Preisentwicklung
letzte 30 Tage
Key-Preisvergleich
* Bitte vor dem Kauf die Beschreibung des jeweiligen Anbieters beachten. Es wird ausdrücklich darauf hingewiesen, dass der angegebene Preis seit der letzten Aktualisierung gestiegen sein kann, da eine Echtzeit-Aktualisierung der vorstehend angegebenen Preise technisch nicht immer möglich ist. Der maßgebliche Verkaufspreis ist derjenige, welcher zum Zeitpunkt des Kaufs auf der Webseite des Verkäufer-Shops ausgewiesen wurde.
Beschreibung
Survive the Nights jetzt günstig als Steam Key kaufen. Vergleiche die Preise aller Keyshops und spare beim Kauf eines Survive the Nights Game Keys.
Survive the Nights is a unique FPS survival game focusing on teamwork, fortification, creativity and strategy. Secure a structure or roam free, the choice is yours. Survive the Nights focuses on realistic survival, post zombie infestation. The game takes advantage of day and night cycles. Preparing during daylight hours when moving around the world is less risky. Make use of existing structures instead of building them. Play as a team to better your chances surviving each night.

There are currently over 400 structures on the island's alpha build. Every structure on the island is enterable and fortifiable. Fell a tree (there are over 24 thousand) and produce logs. With the right tools in hand, you'll be able to craft planks then all that's needed is a hammer and a box of nails. Find lock hasps and combination locks to secure doors, cabinets, lock boxes and vehicles. Craft traps to keep players and zombies at bay.
Here's some of what Survive the Nights has to offer in it's first public alpha build. Please remember, we're dedicated to listening to the players. If you have any suggestions share them on our forums, we're listening!

Around 64 square kilometers of playable area

Designed by hand not generated!

Woodlands

Campgrounds

Farmland

Meadows

Rivers

Large road system

100's of fortifiable structures

All structures are enterable and securable
There's a big difference between day and night, remembering that may be key to your survival. Day and night cycles make for dynamic gameplay. Zombies are scarce and far more docile during daylight hours. Nightfall brings out dead so it's best to be indoors by then. Traveling at night is not advised.
Day cycle

Gather loot and food during the day

Fortify a structure (NOT CURRENTLY IN PRE-ALPHA BUILDS)

Secure doors and containers with locks

Fuel generators and prepare power systems
Night cycle

Team up with friends

Hunker down in your secured structure

Try to survive the night
Our weather system is dynamic including temperature changes, all four seasons along with seasonal vegetation and foliage.

Dynamic lighting

Dynamic seasons

Dynamic temperatures to suit seasons (NOT CURRENTLY IN PRE-ALPHA BUILDS)

Day and night cycles

Moon cycles

Realistic star and moon positions

Random weather events such as rain storms and snow storms

Mist and fog system
Powering a structure can provide a structure with lighting and the ability to use some of the structure fixtures like electric stoves.

Power an electric meter with a generator

Power larger structures with in house backup generators

Power a set radius with a generator in the wild

Supplies a structure or area with electricity

Power lights

Appliances (NOT CURRENTLY IN PRE-ALPHA BUILDS)

Heating devices (NOT CURRENTLY IN PRE-ALPHA BUILDS)

Crafted electrical items

Power tools (NOT CURRENTLY IN PRE-ALPHA BUILDS)
Structures are all exciting as there's no "base building" in Survive the Nights. You can take control of an already existing structure and fortify it as you see fit such as providing it with a power supply, boarding windows and doorways, setting traps and securing doors and containers with locks.

Every door can be padlocked

Every window can be boarded over (NOT CURRENTLY IN PRE-ALPHA BUILDS)

All structures have electric systems (NOT ALL STRUCTURES ARE DESIGNED IN PRE-ALPHA BUILDS)

All structures can be powered (NOT ALL STRUCTURES CAN BE POWERED IN PRE-ALPHA BUILDS)
Simplified text based inventory and crafting allows us to greatly expand on in game items and crafting possibilities without the graphical overhead.

Simplified crafting system

Combine common items to create other useful loot

Create tools like axes, hammers and hatchets by combining crafted handles and found tool heads

Combine food items with pots and pans to create meals that are ready to cook
The placement system allows for players to move any crafted or found physical game drop as they see fit. You can stack food boxes up on your kitchen counter and even line your ammo boxes up on a bedroom dresser. Placement will allow for players to make a structure feel more like their own.

Manipulate any loot drop

Place and store goods on counters, shelves or tables

Organize your safe house
(NOT CURRENTLY IN PRE-ALPHA BUILDS) Getting around an island the size of this one isn't easy on foot. Vehicles are in their infancy and are something we'll greatly expand on in the future. They can be used as containers and larger vehicles like the RV can be used as mobile homes complete with containers for storing goods as well as a stove and refrigerator for keeping foods fresh.

Realistic fuel consumption

Realistic part system

Vehicles act as containers and loot can be stored in them

Vehicles support more than one passenger

Our mental health system is being developed to discourage "Kill On Site" mentality. The zombies in Survive the Nights will be a real threat and you'll better your chances of surviving with friends and not killing every stranger that comes walking by. PVP is still a factor as it should be and there are means to correct a negative mental state.

Kill players repeatedly and pay the price

Eat raw or rancid foods and lower your mental state

Eat warm meals or fresh foods to raise your mental state

Extreme lows in the mental health stat will result in death
Realistic food and drink intake is a big part of the game. You won't need to eat too frequently so eating and drinking feels like a smooth mechanic and less like a burden. Eating and maintaining a proper diet can even result in character buffs.

Realistic calorie consumption

Realistic hydration system

Only eat what you need for a day

Eat more and build your calorie, stamina and overall health stats

Consume cooked foods to lower your chance of sickness
The dead are a real threat and will kill an unprepared player quickly.

Day and night based AI

Zombies hear

Zombies see

Zombies can attack your structures and gain entrance

Day zombies are few in number allowing you a better chance of gathering resources

Night zombies are abundant in number, traveling at night isn't advised 
Day Zombies
Found in dark tree lines and abandoned structures

More docile and less prone to attack

Night Zombies
Turn into night zombies when the sun goes down

Roam the wilds along with the streets

Very aggressive

Increased vision

Faster and more agile

Spawn in higher numbers
Something we're including right from the first alpha build is steam achievements. How many nights will you survive? Just like all of our features we'll gather ideas for Steam Achievements from the community. We'll expand greatly on achievements but you'll have many to earn in early access such as nights survived, trees felled, times killed, zombies killed etc.
Survive the Nights™ 2014 a2z(Interactive);LTD. a2z(Interactive);, Survive the Nights and their respective logos are trademarks or registered trademarks of a2z(Interactive);LTD. All rights reserved.
---
Systemanforderungen
Minimum:
Betriebssystem: Windows 7 64 bit

Prozessor: 2ghz

Arbeitsspeicher: 6 GB RAM

Grafik: NVIDIA GTX 660 or higher/AMD Radeon HD 7870

DirectX: Version 9.0

Netzwerk: Breitband-Internetverbindung

Speicherplatz: 10 GB verfügbarer Speicherplatz
Empfohlen:
Betriebssystem: Windows 10 64 bit

Prozessor: 3ghz

Arbeitsspeicher: 8 GB RAM

Grafik: NVIDIA GTX 1060/AMD Radeon RX 480

DirectX: Version 11

Netzwerk: Breitband-Internetverbindung

Speicherplatz: 10 GB verfügbarer Speicherplatz
Minimum:
Betriebssystem: OS X Lion 10.7

Prozessor: 2ghz

Arbeitsspeicher: 8 GB RAM

Speicherplatz: 10 GB verfügbarer Speicherplatz
Empfohlen:
Betriebssystem: OS X Mavericks

Prozessor: 3ghz

Arbeitsspeicher: 8 GB RAM

Netzwerk: Breitband-Internetverbindung

Speicherplatz: 10 GB verfügbarer Speicherplatz
Key-Aktivierung
Um einen Key bei Steam einzulösen, benötigst du zunächst ein Benutzerkonto bei Steam. Dieses kannst du dir auf der offiziellen Website einrichten. Im Anschluss kannst du dir auf der Steam Webseite direkt den Client herunterladen und installieren. Nach dem Start von Steam kannst du den Key wie folgt einlösen:
Klicke oben im Hauptmenü den Menüpunkt "Spiele" und wähle anschließend "Ein Produkt bei Steam aktivieren...".



Im neuen Fenster klickst du nun auf "Weiter". Bestätige dann mit einem Klick auf "Ich stimme zu" die Steam-Abonnementvereinbarung.



Gebe in das "Produktschlüssel"-Feld den Key des Spiels ein, welches du aktivieren möchtest. Du kannst den Key auch mit Copy&Paste einfügen. Anschließend auf "Weiter" klicken und das Spiel wird deinem Steam-Account hinzugefügt.

Danach kann das Produkt direkt installiert werden und befindet sich wie üblich in deiner Steam-Bibliothek.
Das Ganze kannst du dir auch als kleines Video ansehen.