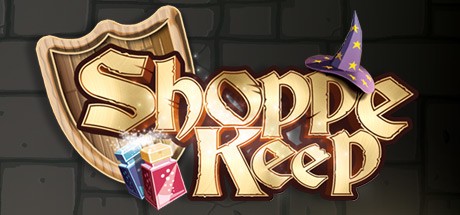 Kategorien:

Publisher:

Excalibur, Merge Games

Entwickler:

Arvydas Žemaitis

Releasedatum:

20. Mai 2016

(vor 7 Jahren)
Preisentwicklung
letzte 30 Tage
Key-Preisvergleich
* Bitte vor dem Kauf die Beschreibung des jeweiligen Anbieters beachten. Es wird ausdrücklich darauf hingewiesen, dass der angegebene Preis seit der letzten Aktualisierung gestiegen sein kann, da eine Echtzeit-Aktualisierung der vorstehend angegebenen Preise technisch nicht immer möglich ist. Der maßgebliche Verkaufspreis ist derjenige, welcher zum Zeitpunkt des Kaufs auf der Webseite des Verkäufer-Shops ausgewiesen wurde.
Ausverkauft
Beschreibung
Shoppe Keep jetzt günstig als Steam Key kaufen. Vergleiche die Preise aller Keyshops und spare beim Kauf eines Shoppe Keep Game Keys.
***With the exciting announcement that Shoppe Keep has now moved from Early Access to full release comes further good news! Only today developer Strangefire has declared a number of significant game play enhancements and new and expansive content. We will continue with our planned seasonal updates, but the really exciting news is about the new Street Market and the Inn!
If you haven't played Shoppe Keep yet, why not join nearly 100,000 gamers who are already enjoying this unique business management game, and create your own fantasy retail consortium! ***


The skill is to shrewdly set the price of each item and watch the money roll in - too expensive and you will find your stock shrinking as stealing increases. Deal with thieves quickly with a swing of your sword or a zap from a lightning spell!
Price your wares competitively and adventurers will travel from miles around to your one-stop shop to spend their gold.


Four memorable characters will visit your store, including a hardened warrior, magical mage, sneaky rogue and wise druid. Each of these character types will seek to purchase items relating to their skill set - a warrior will be hard pressed to take a flimsy magical robe into close quarter's battle!


You have a daring clientele to add pressure to your role as a shop keeper. After beating up goblins and even battling the great ol' Dragonclaw they can be a little aggresive. This might mean your displays can be spoilt and tables and shelves damaged. They are not too careful about bringing in dirt from the street either!

However help is at hand! As the owner of the store you'll be armed with awesome tools for combating these issues. The broom will sweep away dirt brought in from your customers and the hammer will repair furniture damaged by these extraordinary visitors. A few sweeps and a couple of swings means your shop will be in tip top shape. Expand your empire and you can employ an army of "Helper Bots" – the latest in imaginary technology.


Set your prices too high and your customers may think twice about investing their hard won (or stolen) gold in your shop. They'll throw the dice and attempt to steal it right under your nose! A quick swing of the sword or a zap of a magic spell can make quick work of these thieves. But be cautious not to hit any innocent bystanders or you'll suffer the monetary penalty of paying a high fee!

And let's not forget the Barbarians, they live on the outskirts of the city, regularly invading the town, and if your shop is popular enough will cause as much damage and destruction as possible. They will even fight you directly if you try to stop them. Eliminate a few dozen barbarians and they'll invite a much larger friend to come and visit you.


It's tough running a shop, as there are often not enough hours in the day to go out and procure new items. Thankfully, you can employ a champion that can be unlocked in the skill tree. Select a class, equip them with your finest armour and weapons, and send them out to bring back new wares. Some of these items can be sold, some are junk and others can be crafted into more powerful gear.
Your champion will need to gain experience. The first time out they may fall in battle, and whilst they will not return with any new goods, the experience will have taught them valuable skills that will improve their chances next time.


"Helper Bots" are your robotic staff team. The MK III was created by a Gobliness engineer to increase the artificial intelligence of this mechanical chap. Originally, these bots would break down and refuse to acknowledge orders. However a few bugs have been ironed out and the MK III is the latest in robotic technology.
The helper bot has three duties; zapping thieves who attempt to steal from your shop, picking up items that customers may have thrown to the floor, and restocking items back on the shelves. You can purchase several helper bots to help run your shop, and to help automate the process of running your shop.FEATURES
Manage your own shoppe, from ordering stock, setting prices and placing stock for sale
Design your own shoppe layout by ordering tables, shelves and weapon racks
Unlock new abilities and perks in the skill menu, including gardening, alchemy, the grinder and higher tier stock
Use the helper bot to collect items thrown by customers, zap thieves and restock items
Create a champion, select its class and send them out on adventures
Arm yourself with a sword and magic spells to defend your shoppe from cheeky thieves and destructive barbarians
Maintain your shoppe using the hammer to repair furniture and the broom to sweep away dirt (And corpses)
Cycles through 4 seasons, with each season featuring a most wanted item. Frost Resists potions sell best in Winter etc.

Over the next few weeks the new content we mentioned at the beginning of this announcement will be added. You will be able to expand your business to include the selling potential in the local street market. The street market employs a vicious guard to protect market sellers stock – put your most expensive stock for sale here to ensure it will never be stolen! Also to be added is the new local Inn. All shoppers need a place to relax and refresh so why not include the Inn as an extra arm to your business. Your customers can sit and enjoy a drink and some food whilst you sit back and watch the profits roll in. And enjoy a drink yourself too!
All rights reserved Strange Fire @2015. All rights reserved Merge Games@2015. All rights reserved Excalibur Publishing @2015.
Key-Aktivierung
Um einen Key bei Steam einzulösen, benötigst du zunächst ein Benutzerkonto bei Steam. Dieses kannst du dir auf der offiziellen Website einrichten. Im Anschluss kannst du dir auf der Steam Webseite direkt den Client herunterladen und installieren. Nach dem Start von Steam kannst du den Key wie folgt einlösen:
Klicke oben im Hauptmenü den Menüpunkt "Spiele" und wähle anschließend "Ein Produkt bei Steam aktivieren...".



Im neuen Fenster klickst du nun auf "Weiter". Bestätige dann mit einem Klick auf "Ich stimme zu" die Steam-Abonnementvereinbarung.



Gebe in das "Produktschlüssel"-Feld den Key des Spiels ein, welches du aktivieren möchtest. Du kannst den Key auch mit Copy&Paste einfügen. Anschließend auf "Weiter" klicken und das Spiel wird deinem Steam-Account hinzugefügt.

Danach kann das Produkt direkt installiert werden und befindet sich wie üblich in deiner Steam-Bibliothek.
Das Ganze kannst du dir auch als kleines Video ansehen.