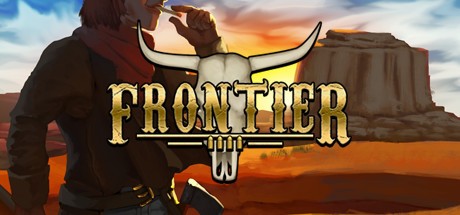 Kategorien:

Publisher:

Lacuna Corporation

Entwickler:

Lacuna Corporation

Releasedatum:

04. Mär 2016

(vor 7 Jahren)
Preisentwicklung
letzte 30 Tage
Key-Preisvergleich
* Bitte vor dem Kauf die Beschreibung des jeweiligen Anbieters beachten. Es wird ausdrücklich darauf hingewiesen, dass der angegebene Preis seit der letzten Aktualisierung gestiegen sein kann, da eine Echtzeit-Aktualisierung der vorstehend angegebenen Preise technisch nicht immer möglich ist. Der maßgebliche Verkaufspreis ist derjenige, welcher zum Zeitpunkt des Kaufs auf der Webseite des Verkäufer-Shops ausgewiesen wurde.
Beschreibung
Frontier jetzt günstig als Steam Key kaufen. Vergleiche die Preise aller Keyshops und spare beim Kauf eines Frontier Game Keys.
The Wild West...

The turning point of all Western civilisation, the dawn of an era- for the first time in decades people could leave their hard lives all over the world with the hopes of becoming rich beyond their wildest dreams.

Do you want to make money out of the gold rush? Or do you have other plans in mind? No matter! Whatever you want to do, you will be able to do in Frontier! Currently in Early Access, we have huge plans for development and a dedicated team who is ready to bring you a steady stream of updates so you're always finding new features to discover. With everything from tobacco farming and cigarette rolling to crime fighting and destroying evidence in the works, we are working towards creating the most diverse simulation of the frontier movement ever imagined for gamers to experience!But what's it all about?

Frontier is whatever you want it to be. The current version already brings you a robust building system, resource gathering, stunning graphics with PBR textures, a huge map (which is tiny in comparison to the final world we're constructing), 6 types of animal to hunt, alcohol to keep you entertained on your travels, wild hallucinogenic plants to harvest and consume, a butchery system so you can skin dead animals, plus a beautiful and dynamic weather simulation.

But this is only the beginning.

Frontier is in it's infancy. Over the next few months, the game will grow to include countless new features, including intelligent NPCs to populate your cities, a detailed economic simulation, and an enormous and lore-rich environment, just to name a tiny amount of what we have planned.

Our designs revolve around player freedom. We want to put the world in your hands, giving you complete control over how you live your life in the Wild West. Create settlements and manage your people, become a cattle baron and make your fortune, compete in drinking contests in one of your own saloons, trade goods, fight outlaws, rob banks and engage in the hundreds of activities we have planned!Upcoming Features

You're probably wondering exactly what we have in store for you. Well look no further, here is a brief summary of some of our more unique future updates. THis list is not comprehensive, and is subject to change (with the guidance of the Steam community, although we fully intend to include everything on this list);
 
NPCs- A wide range of intelligent characters to settle your towns, spend money in your shops and interact with you throughout the world
An authentic arsenal stocked with period-correct weaponry, carrying everything from Winchesters to Gatling guns
Many more blocks for our building system, allowing you to create expensive, upscale mansions and cozy campsites
Enormous, lore-rich map system for you to explore, with different areas bringing their own environments and wildlife
Diverse activities system, bringing you everything from drinking contests and shooting challenges to bar brawls and bounty hunting
Indepth "Vice" System- New drugs to harvest and create, illegal activities to take part in for quick cash, and even poker tournaments
Community Involvement

Community involvement is going to be key to the development of Frontier. We want to know exactly what you like and don't like, and exactly what you want to see brought to the game in future updates. The team will be talking to players to hear their opinions and suggestions, and we openly welcome you to come and talk to us on the discussions forums or in our official Steam group.The Team

Here at Lacuna we are dedicated to our work. We've been through a lot to make it onto Steam, with countless hours of work going into the very first version of Frontier. We are all super excited about the future of the game, and can't wait to get to work bringing our plans to life with the help of the community! We're the fine folks you'll meet around Steam, and we're always more than happy to have a chat with you about Frontier. Don't forget to come and say hi on the discussions forums!
 
Joshua McAnaney, CEO- Josh started Frontier in late 2014 as a game concept which blended huge open-world titles like Skyrim into a completely player-driven dynamic. He has coordinated the team ever since, while coding many systems and working on different aspects of development, but none of it would have been possible without the amazing developers we have at Lacuna!
Cody Jorgensen, Lead Programmer- Cody joined Lacuna way back in early 2015 as a 3D modeller, designing all of our building system objects. Building on his long time interest in coding, he learned our development API within a matter of weeks and has since personally designed the most complex systems in the game from scratch.
Karsten Sperling, Lead Artist- Karsten is one of the most talented artists we've ever met and is behind the beautiful PBR textures you can find throughout Frontier, and our stunning first map. With huge plans for the future gameworld, Karsten is the guy who will be creating the terrain you'll be playing on.
Steve Harbin, PR Manager- Steve is the man with the words! He handles all of our press releases, media communication, and all the important legal documents the rest of us are too scared to handle. He's been with us since the very beginning, starting out as a programmer, before moving into a management role to ensure that everything runs smoothly!
Gabriel Lavoyer, Lead Design Artist- Gabriel is the newest member of the team and is the creative brains behind all of our amazing artwork! We are looking forward to seeing his future work!
©Lacuna Corporation 2015-2016 For Support, Business Enquiries and Legal Issues, please email support@lacunasoftworks.com
Key-Aktivierung
Um einen Key bei Steam einzulösen, benötigst du zunächst ein Benutzerkonto bei Steam. Dieses kannst du dir auf der offiziellen Website einrichten. Im Anschluss kannst du dir auf der Steam Webseite direkt den Client herunterladen und installieren. Nach dem Start von Steam kannst du den Key wie folgt einlösen:
Klicke oben im Hauptmenü den Menüpunkt "Spiele" und wähle anschließend "Ein Produkt bei Steam aktivieren...".



Im neuen Fenster klickst du nun auf "Weiter". Bestätige dann mit einem Klick auf "Ich stimme zu" die Steam-Abonnementvereinbarung.



Gebe in das "Produktschlüssel"-Feld den Key des Spiels ein, welches du aktivieren möchtest. Du kannst den Key auch mit Copy&Paste einfügen. Anschließend auf "Weiter" klicken und das Spiel wird deinem Steam-Account hinzugefügt.

Danach kann das Produkt direkt installiert werden und befindet sich wie üblich in deiner Steam-Bibliothek.
Das Ganze kannst du dir auch als kleines Video ansehen.