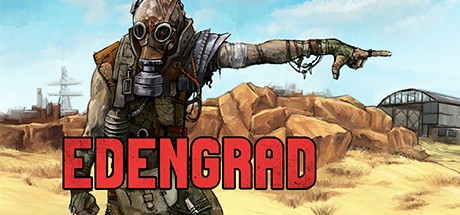 Kategorien:

Publisher:

Huckleberry Games S.A.

Entwickler:

Huckleberry Games S.A.

Releasedatum:

04. Apr 2017

(vor 6 Jahren)
Preisentwicklung
letzte 30 Tage
Key-Preisvergleich
* Bitte vor dem Kauf die Beschreibung des jeweiligen Anbieters beachten. Es wird ausdrücklich darauf hingewiesen, dass der angegebene Preis seit der letzten Aktualisierung gestiegen sein kann, da eine Echtzeit-Aktualisierung der vorstehend angegebenen Preise technisch nicht immer möglich ist. Der maßgebliche Verkaufspreis ist derjenige, welcher zum Zeitpunkt des Kaufs auf der Webseite des Verkäufer-Shops ausgewiesen wurde.
Beschreibung
Edengrad jetzt günstig als Steam Key kaufen. Vergleiche die Preise aller Keyshops und spare beim Kauf eines Edengrad Game Keys.
Edengrad is a Survival MMORPG game based on the fundamentals of post-apocalyptic culture and inspired by classics, such as Fallout and Mad Max. The entire gameplay rests on mechanics known from Sandbox productions, in which players have no set down destination, but everyone freely chooses interesting quests and take their paths.
At the beginning, player's everyday responsibilities include collecting firewood, building shelters, hunting small game and hydrating the character's body. This phase finishes after finding fellow travelers and formalizing an acquaintance through formation of the fraction.
Creation of micro-communities guarantees all members benefits inaccessible to a single player. Among them there's an opportunity of establishing a settlement, which is unique for this type of the gameplay. It's a meeting place, a trade centre and a fortification of the strategic point on the map.
All options connected with towns, fractions and characters' development are colored with rich storyline and quests that can't be found in other survival productions. A non-linear gameplay and dynamic turn of events will keep every player engrossed in the world of Edengrad for long months.
COMMUNITY DEVELOPMENT
One of Edengrad's most important functions is the possibility to join parties and fractions – it's easier to reach for the greatest achievements together.
Parties can count up to 4 members and their main goals include fighting against stronger opponents, teaming up in order to accomplish tasks and joint actions that guarantee each member certain benefits. After accepting a group's invitations, the members can see information relating to a level of HP or a location of their teammates. Each group has its leader who can invite other players or ask them to leave. The party is no more when the last member leaves.
Another form of players' association is the fraction which is an equivalent for guilds known from MMO productions. Its core function is the option of establishing a settlement, which gives players a chance to achieve new solutions – it's a place in which they can store gathered belongings and trade it.
Town residents can receive or buy parcels from the leader and are obligated to pay taxes – thanks to this solution the settlement can develop. It's worth mentioning that players who aren't members of fractions can become town citizens – the final decision belongs to the mayor. The fraction and the settlement are structures that will help to enjoy the full potential of the game.
STORYLINE
Edengrad is a game that takes place in a world that has been polluted due to longstanding, global wars. A fractional part of society survived the turmoil of war, but the massive contamination of environment forced the survivors to choose between emigration to another planet to seek for a better future or staying on Earth and living in huge, underground vaults.
After many years the government made a plan aimed at regenerating environment on the surface with the use of special machines, known as Hydra-class nature generators. Although the government's plan was only partially successful, it enabled repopulation of several areas of the planet.

The player becomes a descendant of vaults' primary inhabitants. He works as a mercenary and receives a number of missions on a newly-regenerated surface of the planet. The assigned quests stand out from other productions of that type thanks to developed and non-linear storyline. Edengrad is not just a world filled with dangerous and amazing missions – it's the world that remains in the memory for a long time. The production of our studio levels-up the interaction with players and the core of narration to a completely new standard.

First stages of the gameplay focus on the player's survival on the surface, building a shelter, hunting a game and finding teammates. Consecutive phases are about founding a home or a settlement and interacting with players from all over the world.
SKILLS
The player has at their disposal several developable skills ranging from carpentry and woodcutting to engineering and farming. Players can trade and import unreachable goods from one region to another. Combat is an important but not crucial element of the gameplay.
A list of skill trees including from dozen to several dozen abilities to unlock:
Fighting, Woodcutting, Farming, Mining, Carpentry, Cooking, Chemistry, Gunsmithing, Tailoring, Engineering, Blacksmithing, Building, First Aid, Survival and Animal Husbandry.
Some of skill trees are going to be strongly developed in the Early Access in order to give players occupation for several evenings. It's a thing we are going to develop with each update.
What makes Edengrad unique is a number of options – players choose the strategy and the way of running the gameplay. People fascinated with exploring can dig through ancient cities and those who prefer fighting are free to face opponents. Aficionados of interesting stories are amazed by a fabulous storyline, while players with engineering skills have an opportunity to found and develop towns.
The game's unique vibe was also achieved thanks to advanced leveling system of a character. Players get to know other users' level of progression because of introduction of a general level that depends, among other things, on their experience gained in any profession.
Players have at their disposal 3 character's development categories that group 10 skills and the character can be developed to level 50, gaining the maximum number of 100 development points. Long story short, our game enables the player to create a unique character that can affect towns' development and become a pioneer of a chosen profession.

Every player can engage in the above-mentioned actions according to their needs – they are free to decide.
INNOVATION
The game enables players to personalize their characters; users are able to modify characters' faces and make them unique. Characters' outfits can not only be found, but also sewed, and thanks to individually picked elements, their uniqueness rises.
The game is set after year 2044 and because of that fact, several materials available in the game are unknown to us yet.
Every player faces lots of opponents ranging from harmless herbivores, through predators, to mutants, which can be a real challenge.
---
Systemanforderungen
Minimum:
Betriebssystem: Windows 7 64-bit

Prozessor: Intel Core i3 or AMD Athlon II X4 with at least 2,3 GHz

Arbeitsspeicher: 8 GB RAM

Grafik: GeForce GTX 750

DirectX: Version 9.0

Netzwerk: Breitband-Internetverbindung

Speicherplatz: 15 GB verfügbarer Speicherplatz
Empfohlen:
Betriebssystem: Windows 7 64-bit

Prozessor: Intel Core i5 or AMD Phenom II X4 with at least 2,5 GHz

Arbeitsspeicher: 16 GB RAM

Grafik: GeForce GTX 970

DirectX: Version 11

Netzwerk: Breitband-Internetverbindung

Speicherplatz: 15 GB verfügbarer Speicherplatz
Minimum:
Betriebssystem: OSX

Prozessor: Intel Core i3

Arbeitsspeicher: 4 GB RAM
Empfohlen:
Betriebssystem: OSX

Prozessor: Intel Core i5

Arbeitsspeicher: 8 GB RAM
Minimum:
Betriebssystem: Ubuntu OR SteamOS

Prozessor: Intel Core i3 or AMD Athlon II X4 with at least 2,3 GHz

Arbeitsspeicher: 4 GB RAM
Empfohlen:
Betriebssystem: Ubuntu OR SteamOS

Prozessor: Intel Core i5 or AMD Phenom II X4 with at least 2,5 GHz

Arbeitsspeicher: 8 GB RAM
Key-Aktivierung
Um einen Key bei Steam einzulösen, benötigst du zunächst ein Benutzerkonto bei Steam. Dieses kannst du dir auf der offiziellen Website einrichten. Im Anschluss kannst du dir auf der Steam Webseite direkt den Client herunterladen und installieren. Nach dem Start von Steam kannst du den Key wie folgt einlösen:
Klicke oben im Hauptmenü den Menüpunkt "Spiele" und wähle anschließend "Ein Produkt bei Steam aktivieren...".



Im neuen Fenster klickst du nun auf "Weiter". Bestätige dann mit einem Klick auf "Ich stimme zu" die Steam-Abonnementvereinbarung.



Gebe in das "Produktschlüssel"-Feld den Key des Spiels ein, welches du aktivieren möchtest. Du kannst den Key auch mit Copy&Paste einfügen. Anschließend auf "Weiter" klicken und das Spiel wird deinem Steam-Account hinzugefügt.

Danach kann das Produkt direkt installiert werden und befindet sich wie üblich in deiner Steam-Bibliothek.
Das Ganze kannst du dir auch als kleines Video ansehen.
Ein Steam Gift ist - wie der Name vermuten lässt - ein virtuelles Geschenk auf der Steam Plattform. Um ein Steam Geschenk empfangen zu können benötigst Du einen aktiven Steam-Account. Händler die Steam Geschenke verkaufen senden dir im Anschluss einen Link zur Steam-Seite auf dem du das Geschenk annehmen kannst.
Anschließend befindet sich das gekaufte Produkt wie üblich in deiner Steam-Bibliothek und ist bereit zum installieren und spielen.