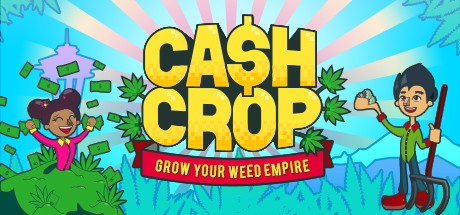 Kategorien:

Publisher:

Joint Ventures

Entwickler:

Joint Ventures

Releasedatum:

03. Aug 2017

(vor 1 Jahr)
Preisentwicklung
letzte 30 Tage
Key-Preisvergleich
* Bitte vor dem Kauf die Beschreibung des jeweiligen Anbieters beachten. Es wird ausdrücklich darauf hingewiesen, dass der angegebene Preis seit der letzten Aktualisierung gestiegen sein kann, da eine Echtzeit-Aktualisierung der vorstehend angegebenen Preise technisch nicht immer möglich ist. Der maßgebliche Verkaufspreis ist derjenige, welcher zum Zeitpunkt des Kaufs auf der Webseite des Verkäufer-Shops ausgewiesen wurde.
Ausverkauft
Beschreibung
Cash Crop jetzt günstig als Steam Key kaufen. Vergleiche die Preise aller Keyshops und spare beim Kauf eines Cash Crop Game Keys.
The Delightfully Fun Cannabis Farming Game! Casual Farming Sim meets Tycoon/RPG gameplay...with Cannabis!
The year is 2017 and cannabis is the new green gold rush! It's the wild west all over again with customers trying to get the best weed, businesses trying to make a buck, and everyone trying to stay out of jail! The marijuana industry is going through a once-in-a-lifetime, end-of-prohibition transformation. Will you get your cut of the profits?
Cash Crop fuses the immensely popular RPG/Tycoon Farmer style of gameplay with the culture, humor, and challenges of today's most popular cash crop!
YOUR FARM, YOUR EMPIRE
Control your entire grow operation. Choose the strains to grow, design your irrigation and power systems. Run a small organic farm by hand, or a sprawling commercial grow with dozens of crew, multiple locations, and hundreds of plants. Choose the pace and the scale that fits your high goals.
ECOLOGY, PLANT RELATIONSHIP
Your plants are the heart of your farm. Caring for each of your plants is a fun rewarding challenge to keep them healthy and stress-free. From Sniklefritz to Pineapple Express, each strain has different needs and preferences. Become an expert grower by mastering the individual care of each plant.
MORE TOOLS, MORE POWER (insert grunt)
From hand tool to power tools, a variety of fun and playful equipment are available for the industrious farmer. Use hoses to water plants from a distance, and hedge trimmers to quickly harvest and tame your crops.
HEAT: HiGHER RISK, HIGHER REWARD
Do you run a squeaky-clean operation, in full compliance? Or do you risk everything for a shot at fortune? You accumulate Heat for growing more plants than you have a license for and doing business with shady characters. Too much Heat will attract protestors, inspectors, helicopter fly-bys, even DEA raids and shutdowns! Turn up the heat for a more engaging, fast-paced play! Follow all the rules and avoid risk for a more casual experience.
YOU'RE NOT ALONE: MEET YOUR QUIRKY CREWGrowing all these plants is hard work; hire some friends to MAKE your farm flourish. When you're not directing them, crew members will move about the farm trimming plants, checking water and nutrient levels, and performing other tasks. Their skills will improve with use over time and with better equipment.
NEGOTIATE CONTRACTS, MANAGE VENDORS AND CLIENTSReview and apply for a variety of contracts to fulfill. Meet other farmers, store owners, bands, celebrities, and maybe even Big Foot (he loves Sasquatch OG) as you share your crop. Negotiate for every last penny or accept bottom dollar to improve your relationships.
TECH TREE: STAFF RESEARCH AND DEVELOPMENT
Behind every great bud is a great team. Hire lawyers, gardeners, even street dealers as you expand your operation. Investing in your staff unlocks skills, perks, and abilities for your farm.
COMPLEX SYSTEMS: AUTOMATION MAKES YOU STRONGER (and makes it one step closer to the robots taking over)
Tired of watering by hand? Work smarter, not harder, by installing pipes and sprinklers to quickly and reliably water your plants. Timers and other control systems can be installed to make managing your crop a breeze.
EXPLORE THE PACIFIC NORTHWEST
Once your farm is running profitably, adventure onward. Explore Seattle, the Cascades, and more as you hunt for quests, breed new strains, expanded to new markets, and find the Easter Eggs we've hidden for you. Open shop in Seattle, or start a grow in Oregon.
FARMING: ONLY THE BEGINNING
Future releases will include Retail and Processor gameplay. Move on from the farm and run your own chain of stores, glass shop, or an oil processing facility. Future plans also include new markets such as Nevada, California, Texas, and more. The sky is the limit!
---
Systemanforderungen
Minimum:
Betriebssystem: Windows Vista or above

Prozessor: 2.0 Ghz

Arbeitsspeicher: 2 GB RAM

Grafik: 256 mb video card

DirectX: Version 10

Speicherplatz: 800 MB verfügbarer Speicherplatz
Minimum:
Betriebssystem: Mac OSC 10.9 or above

Prozessor: 2.0 Ghz

Arbeitsspeicher: 2 GB RAM

Grafik: 256 mb video card, OpenGL 2

Speicherplatz: 800 MB verfügbarer Speicherplatz
Key-Aktivierung
Um einen Key bei Steam einzulösen, benötigst du zunächst ein Benutzerkonto bei Steam. Dieses kannst du dir auf der offiziellen Website einrichten. Im Anschluss kannst du dir auf der Steam Webseite direkt den Client herunterladen und installieren. Nach dem Start von Steam kannst du den Key wie folgt einlösen:
Klicke oben im Hauptmenü den Menüpunkt "Spiele" und wähle anschließend "Ein Produkt bei Steam aktivieren...".



Im neuen Fenster klickst du nun auf "Weiter". Bestätige dann mit einem Klick auf "Ich stimme zu" die Steam-Abonnementvereinbarung.



Gebe in das "Produktschlüssel"-Feld den Key des Spiels ein, welches du aktivieren möchtest. Du kannst den Key auch mit Copy&Paste einfügen. Anschließend auf "Weiter" klicken und das Spiel wird deinem Steam-Account hinzugefügt.

Danach kann das Produkt direkt installiert werden und befindet sich wie üblich in deiner Steam-Bibliothek.
Das Ganze kannst du dir auch als kleines Video ansehen.