Assetto Corsa Competizione

(PC)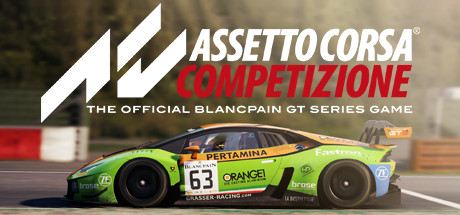 Kategorien:

Publisher:

505 Games

Entwickler:

Kunos Simulazioni

Releasedatum:

29. Mai 2019

(vor 6 Monaten)
Preisentwicklung
letzte 30 Tage
Key-Preisvergleich
* Bitte vor dem Kauf die Beschreibung des jeweiligen Anbieters beachten. Es wird ausdrücklich darauf hingewiesen, dass der angegebene Preis seit der letzten Aktualisierung gestiegen sein kann, da eine Echtzeit-Aktualisierung der vorstehend angegebenen Preise technisch nicht immer möglich ist. Der maßgebliche Verkaufspreis ist derjenige, welcher zum Zeitpunkt des Kaufs auf der Webseite des Verkäufer-Shops ausgewiesen wurde.
Ausverkauft
Beschreibung
Assetto Corsa Competizione jetzt günstig als Steam Key kaufen. Vergleiche die Preise aller Keyshops und spare beim Kauf eines Assetto Corsa Competizione Game Keys.
Assetto Corsa Competizione is the new official Blancpain GT Series videogame.
Thanks to the extraordinary quality of simulation, the game will allow you to experience the real atmosphere of the GT3 championship, competing against official drivers, teams, cars and circuits reproduced in-game with the highest level of accuracy ever achieved.
Sprint, Endurance and Spa 24 Hours races will come to life with an incredible level of realism, in both single and multiplayer modes.
Assetto Corsa Competizione will feature Blancpain GT Series' 2018 Season, and will also include Season 2019, that will be provided as a free update during Summer 2019.
Assetto Corsa Competizione is born from KUNOS Simulazioni's long-term experience, and it takes full advantage of Unreal Engine 4 to ensure photorealistic weather conditions and graphics, night races, motion capture animations, reaching a new standard in terms of driving realism and immersion, thanks to its further improved tyre and aerodynamic models.
Designed to innovate, Assetto Corsa Competizione will be set to promote eSports, bringing players at the heart of the Blancpain GT Series and putting them behind the wheel of Ferraris, Lamborghinis, McLarens and many other prestigious GT racing cars, all reproduced with outstanding level of detail.
REALISTIC SIMULATION
Assetto Corsa Competizione is designed to faithfully recreate the performance and the driving experience of real Blancpain GT Series cars through a sophisticated mathematical model that accurately replicates tyre grip, aerodynamic impact, engine parameters, suspensions and electronics systems that determine vehicle balance, as well as the influence of mechanical damage on the car's drivability.
NEW-GENERATION GRAPHICS AND VISUAL EFFECTS
Unreal Engine 4 guarantees photorealistic rendering and an accurate representation of scenarios, car materials and weather conditions. Thanks to the multi-channel audio sampling of real GT cars, the game conveys captivating and immersive acoustic surroundings and realistic environmental effects.
CARE FOR DETAILS
Even the secondary details are faithfully reproduced to make you feel the thrill of being in the cockpit of a real racing car. Doors, windshield wipers, headlights, racing lights, racing equipment and control devices such as ABS, traction control, engine ignition and ECU mapping, are all under the driver's management to assure the best performance and offer the player total control of the car.
THE MOST ACCURATE CIRCUITS
Thanks to Laserscan technology, every official circuit is recreated with the utmost accuracy: all curbs and details perfectly fit their real counterparts to grant a gaming experience as faithful to reality as possible.
ADVANCED MULTIPLAYER FUNCTIONALITY
A well-structured ranking system will evaluate individual performance and driving behaviour to reward the most virtuous drivers and promote fair play in online competitions. The matchmaking function makes sure that you can compete with opponents of similar skill level and easily find online races to join, while the leaderboards will allow you to compare single-lap performance with drivers from all around the world with the same car, circuit and weather conditions.
IMMERSIVE SINGLE PLAYER EXPERIENCE
Career, Championship and Free Play modes offer a complete and customizable gaming experience, also thanks to the tutorials and progressive aid levels that allow you to tailor AI opponent difficulty and vehicle stability control to your abilities. The Special Events will allow you to gain a first-hand experience of the most noteworthy real-life Blancpain GT Series challenges.
HIGH-LEVEL HARDWARE COMPATIBILITY
Assetto Corsa Competizione ensures full compatibility with a wide range of peripherals from gamepads to professional steering wheels.
MOTION CAPTURE FOR REALISTIC ANIMATIONS
Motion capture technology is used to create the animations of mechanics and drivers in an even more realistic fashion, and guarantee a high level of player engagement during races, pit stops and driver changes.
BLANCPAIN GT SERIES
Encouraged by the success of the Blancpain Endurance Series, which after its creation in 2011 quickly became the global reference for GT racing, world-renowned Swiss watch manufacturer Blancpain and the SRO Motorsports Group decided at the end of 2013 to extend their partnership to the Blancpain Sprint Series. From 2015, teams and drivers were also given the opportunity to compete for an overall Blancpain GT Series title. Varied grids were the result, with a host of respected GT teams and drivers at the start of each race. The Blancpain GT Series also saw an influx of young and talented drivers, making it a worldwide benchmark in GT3 racing.
With both the Blancpain GT Series Sprint Cup and Blancpain GT Series Endurance Cup now sharing the same driver categories and points system, the ten-round Blancpain GT Series season – comprising five sprint events and five endurance events – crowns the world's most complete GT drivers.
A Blancpain GT Series Sprint Cup event consists of two races of one hour each, while the Blancpain GT Series Endurance Cup races range from three-hour events through a 1000 km race to the season highlight of the Total 24 Hours of Spa, one of the world's leading 24-hour races.
ASSETTO CORSA COMPETIZIONE ® KUNOS Simulazioni Srl – 2018 All rights reserved. All other trademarks are property of their respective Owners. Developed by KUNOS Simulazioni Srl. The Assetto Corsa's logo is a registered trademark of KUNOS Simulazioni Srl. FMOD Studio, copyright Firelight Technologies Pty, Ltd., 2012-2016. Manufacturers, cars, names, brands and associated imagery featured in this game in some cases include trademarks and/or copyrighted materials of their respective owners. Produced under license of SRO. All rights reserved. Produced under license of Ferrari Spa. The name FERRARI, the PRANCING HORSE device, all associated logos and distinctive designs are property of Ferrari Spa. The body designs of the Ferrari cars are protected as Ferrari S.p.A. property under design, trademark and trade dress regulations. Trademarks, design patents and copyrights are used with the approval of the owner AUDI AG. Manufactured under license from McLaren Automotive Limited. McLaren and McLaren 650 GT3 are the trademarks of McLaren Racing Limited, McLaren Automotive Limited and the McLaren Group of companies. The BMW trademarks are used under license from BMW AG. The Trademarks, copyrights and design rights in and associated with Lamborghini, Lamborghini with Bull and Shield Device are used under license from Automobili Lamborghini S.p.A., Italy. "Mercedes-Benz" and "Three pointed star in a ring" are trademarks of Daimler AG and used under license by KUNOS SIMULAZIONI Srl. Nissan Motor Co., Ltd. trademarks, designs, coyrights and/or other intellectual property rights are used under license. THE USE OF THIS SOFTWARE IS NOT ALLOWED IN ANY WAY IN PUBLIC, AND/OR FOR PROMOTIONAL, ENTERTAINMENT, TRAINING, EDUCATIONAL OR COMMERCIAL PURPOSES, FOR FREE OR NOT, WITHOUT AN EXPLICIT, WRITTEN PERMISSION PROVIDED BY KUNOS SIMULAZIONI SRL.
---
Systemanforderungen
Minimum:
Setzt 64-Bit-Prozessor und -Betriebssystem voraus

Betriebssystem: Windows 7 64-bit Service Pack 1

Prozessor: Intel Core i5-4460 or AMD FX-8120

Arbeitsspeicher: 4 GB RAM

Grafik: GeForce GTX 460 2GB, Radeon HD 7770

DirectX: Version 11

Speicherplatz: 50 GB verfügbarer Speicherplatz

Soundkarte: Integrated

Zusätzliche Anmerkungen: Game in Early Access, final Specs to be defined
Empfohlen:
Setzt 64-Bit-Prozessor und -Betriebssystem voraus

Betriebssystem: Windows 10 64-bit

Prozessor: Intel Core i5-8600K or AMD Ryzen 5 2600X

Arbeitsspeicher: 16 GB RAM

Grafik: GeForce GTX 1070 8 GB, Radeon RX 580 8GB

DirectX: Version 11

Speicherplatz: 50 GB verfügbarer Speicherplatz

Soundkarte: Integrated

Zusätzliche Anmerkungen: Game in Early Access, final Specs to be defined
Minimum:
Setzt 64-Bit-Prozessor und -Betriebssystem voraus
Empfohlen:
Setzt 64-Bit-Prozessor und -Betriebssystem voraus
Minimum:
Setzt 64-Bit-Prozessor und -Betriebssystem voraus
Empfohlen:
Setzt 64-Bit-Prozessor und -Betriebssystem voraus
Key-Aktivierung
Um einen Key bei Steam einzulösen, benötigst du zunächst ein Benutzerkonto bei Steam. Dieses kannst du dir auf der offiziellen Website einrichten. Im Anschluss kannst du dir auf der Steam Webseite direkt den Client herunterladen und installieren. Nach dem Start von Steam kannst du den Key wie folgt einlösen:
Klicke oben im Hauptmenü den Menüpunkt "Spiele" und wähle anschließend "Ein Produkt bei Steam aktivieren...".



Im neuen Fenster klickst du nun auf "Weiter". Bestätige dann mit einem Klick auf "Ich stimme zu" die Steam-Abonnementvereinbarung.



Gebe in das "Produktschlüssel"-Feld den Key des Spiels ein, welches du aktivieren möchtest. Du kannst den Key auch mit Copy&Paste einfügen. Anschließend auf "Weiter" klicken und das Spiel wird deinem Steam-Account hinzugefügt.

Danach kann das Produkt direkt installiert werden und befindet sich wie üblich in deiner Steam-Bibliothek.
Das Ganze kannst du dir auch als kleines Video ansehen.
Ein Steam Gift ist - wie der Name vermuten lässt - ein virtuelles Geschenk auf der Steam Plattform. Um ein Steam Geschenk empfangen zu können benötigst Du einen aktiven Steam-Account. Händler die Steam Geschenke verkaufen senden dir im Anschluss einen Link zur Steam-Seite auf dem du das Geschenk annehmen kannst.
Anschließend befindet sich das gekaufte Produkt wie üblich in deiner Steam-Bibliothek und ist bereit zum installieren und spielen.