Assetto Corsa
(PC)

Steam Key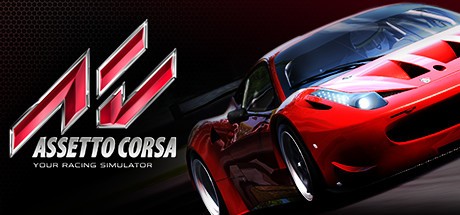 Assetto Corsa jetzt günstig als Steam Key kaufen. Vergleiche die Preise aller Keyshops und spare beim Kauf eines Assetto Corsa CD Keys.
Assetto Corsa 1.5 is now available!

New content available
The new version includes Ford Mustang 2015, Corvette Stingray 2015, Abarth 595 EsseEsse in three versions and the new "Black Cat County" scenery available in three different layouts.

A new layout for Vallelunga
Prior to 2005, "Trincea" was the most challenging bend on the Vallelunga circuit before it was modified to host Formula 1 tests. Trincea ("trench") is a blind high-speed corner that joins the straight after "Ciminis" to the slower section of the circuit. On the real track, in spite of Trincea being permanently closed, the road is still there and it has been captured in our laser-scan point cloud, which is why we decided to give you the thrill this bend was able to offer, bringing the number of layouts available for "our" home circuit up to three.

Sound environment
The 1.5 version brings some interesting updates regarding sounds, an element absolutely relevant to guaranteeing proper immersion and to get you in the car. As we are gaining experience with FMOD, we can take further advantage of its features, while we continue to expand our recordings database. Thanks to our relationship with racing teams and their kind cooperation, we aim to keep improving our recording techniques and the overall product.
We always take into consideration our users' feedback, so the 1.5 build finally features basic reverb effects along the tracks and the car sounds are differentiated by internal and external cameras. This means that cockpit cameras use internal sounds, while you can hear the powerful intake sound from the bonnet camera or the distinctive exhaust sound from the chase camera. This vastly enhances immersion and realism and gives modders the chance to further enhance their amazing projects.
Additionally, we now provide an in-game app that permits changing sound volumes on the fly, so you are not forced to exit a game session. And that's not all, since the free cameras now use the same distance attenuation of the track cameras, this is also great news for race broadcasters and video makers.
Not only does the build bring new features, but also many fixes as well, most importantly gear shift and backfires sounds are now shared by the engine volume. Sounds are also an important information to the driver: now you can hear the bottom of the car scraping against the asphalt or any other surfaces.

Graphics
The 1.5 version also takes an important advantage from the strong and direct connection with the porting process of the code to the consoles, and brings improvements and new features in the graphics department. Post-processing filters have been improved, and the improvements also affect how the cars look. The graphics of the internal instruments have been improved, as well as car details, shaders and materials. The new build features two new driving views: an additional exterior view and the "dashcam", based on the suggestions given by real drivers and simracers.

Tyre model & physics
Starting with tyres; the 1.5 build optimizes the work started with the previous version and brings all the cars to the latest tyre model and tyre features. Tyres have now a more realistic load sensitivity, a variable grip curve after peak, closer performance level between compounds, a brand-new surface and core heating model as well as more realistic heating operation range.

Pitstops
One of the most awaited features for single player is finally here. Pitstop functionalities open Assetto Corsa to endurance racing thanks to the option of refuelling the car and changing tyres, using the compounds available for each single car. The pitstop menu also allows repair to the car body (that affects aerodynamics), suspensions or the engine, with the same functionalities available for multiplayer racing.

Multiplayer & Artificial intelligence
Visible damage has been introduced on opponent cars in Multiplayer races, adding to the immersion of online sessions.
Time progression has also been added to the Multiplayer game mode, meaning that light conditions are no longer static during Multiplayer races, and time progresses the same way it does in Single Player modes. The feature brings an increased level of realism and immersion to online sessions.In addition, general improvements and optimization have also been made to the Multiplayer mode.
As usual, we have not stopped to keep tweaking and improving our artificial intelligence. Significant improvements have been made, more specifically the AI are now more skilled at navigating through traffic and handle racing situations, offering users who prefer single-player modes an increased level of challenge and more realistic racing environment.Available content:

CARS

PRODUCTION
- Abarth 595 EsseEsse (3 variants)
- Abarth 500 EsseEsse (2 variants)
- Alfa Romeo Giulietta QV
- Alfa Romeo Giulietta QV Launch Edition
- Alfa Romeo MiTo QV
- Audi Sport Quattro (2 variants)
- Bmw 1M (2 variants)
- Lamborghini Miura S.V.
- Lotus Elise SC (3 variants)
- Shelby Cobra
- RUF CTR Yellowbird
- Toyota GT-86
- Ford Mustang 2015
- Chevrolet Corvette C7 Stingray

GT
- Bmw M3 E30 Evo (3 variants)
- Bmw M3 E30 Group A
- Bmw M3 E30 DTM
- Bmw M3 E92 (3 variants)
- Bmw Z4 E89 (3 variants)
- Lotus Evora GTC
- Lotus Evora GX

GTR
- McLaren MP4-12c GT3
- Bmw Z4 GT3
- Bmw M3 GT2
- Ferrari 458 GT2
- P4/5 Competizione
- Mercedes SLS GT3

CLASSIC GP
- Classic Team Lotus Type 49
- Classic Team Lotus 98T
- Ferrari 312T

SUPERCAR
- Audi R8 Plus
- Ferrari LaFerrari
- Ferrari 458 Italia (2 variants)
- Ferrari F40 (2 variants)
- Ferrari 599xx
- McLaren Mp4 12c
- Mercedes SLS AMG
- Nissan GTR NISMO
- Pagani Zonda R
- Pagani Huayra
- Lotus Evora S (2 variants)
- Lotus Exige S Roadster
- Lotus Exige Scura
- Lotus 2 Eleven GT4

TRACKDAY
- KTM X-Bow R
- Lotus 2 Eleven
- Lotus Evora GTE
- Lotus Evora GTE Carbon
- Lotus Exige 240R (2 variants)
- Lotus Exige V6 Cup

OPEN WHEEL
- Tatuus FA-01
- Lotus Exos T125 (2 variants)

TRACKS
- Magione - "Autodromo dell'Umbria"
- Imola - "Autodromo Enzo e Dino Ferrari"
- Mugello - "Autodromo Internazionale del Mugello"
- Silverstone - GP
- Silverstone - International
- Silverstone - National
- Monza - "Autodromo di Monza"
- Monza - "Classic 60's Edition"
- Nurburgring - GP
- Nurburgring - Sprint
- Spa Francorchamps
- Vallelunga - "Autodromo Piero Taruffi"
- Vallelunga - Circuito Club
- Zandvoort
- Trento - Bondone Hillclimb
- Drift Track
- Drag strip

SHOWROOMS
- Standard showroom
- The Beach
- Hangar
- Industrial
- Sunset

GAME MODS
- Free Practice
- Racing against AI
- Career
- Online Multiplayer
- HotLap
- Time Attack
- Special Events
- Drift
- Drag race

FEATURES
- In game telemetry and apps
- Advanced car setup management
- Flags
- Penalties

LISTA APPS
- Basic info
- Tyre apps
- Help
- Lap time
- Friends Leaderboard
- Camera On Board Customization
- Time of the day display
- Input monitor
- Time performance indicator
- Gear/rpm indicator
- Track map
- Rankings
- G-meter indicator
PC Anforderungen
Minimum:
Betriebssystem: Windows Vista Sp2 - 7 Sp1 - 8 - 8.1 - 10

Prozessor: AMD Athlon X2 2.8 GHZ, Intel Core 2 Duo 2.4 GHZ

Arbeitsspeicher: 2 GB RAM

Grafik: DirectX 10.1 (e.g. AMD Radeon HD 6450, Nvidia GeForce GT 460)

DirectX: Version 11

Netzwerk: Breitband-Internetverbindung

Speicherplatz: 15 GB verfügbarer Speicherplatz

Soundkarte: Integrated
Empfohlen:
Betriebssystem: Windows Vista Sp2 - 7 Sp1 - 8 - 8.1 - 10

Prozessor: AMD Six-Core CPU, Intel Quad-Core CPU

Arbeitsspeicher: 6 GB RAM

Grafik: DirectX 11 (e.g. AMD Radeon 290x, Nvidia GeForce GTX 970)

DirectX: Version 11

Netzwerk: Breitband-Internetverbindung

Speicherplatz: 30 GB verfügbarer Speicherplatz

Soundkarte: Integrated
* Bitte vor dem Kauf die Beschreibung des jeweiligen Anbieters beachten. Es wird ausdrücklich darauf hingewiesen, dass der angegebene Preis seit der letzten Aktualisierung gestiegen sein kann, da eine Echtzeit-Aktualisierung der vorstehend angegebenen Preise technisch nicht immer möglich ist. Der maßgebliche Verkaufspreis ist derjenige, welcher zum Zeitpunkt des Kaufs auf der Webseite des Verkäufer-Shops ausgewiesen wurde.