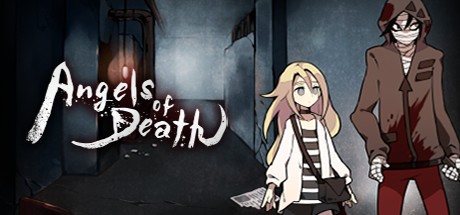 Kategorien:

Publisher:

AGM PLAYISM, Mugen Creations

Entwickler:

KADOKAWA DWANGO CORPORATION, Stardust KRNKRN (Makoto Sanada)

Releasedatum:

19. Dez 2016

(vor 6 Jahren)
Preisentwicklung
letzte 30 Tage
Key-Preisvergleich
* Bitte vor dem Kauf die Beschreibung des jeweiligen Anbieters beachten. Es wird ausdrücklich darauf hingewiesen, dass der angegebene Preis seit der letzten Aktualisierung gestiegen sein kann, da eine Echtzeit-Aktualisierung der vorstehend angegebenen Preise technisch nicht immer möglich ist. Der maßgebliche Verkaufspreis ist derjenige, welcher zum Zeitpunkt des Kaufs auf der Webseite des Verkäufer-Shops ausgewiesen wurde.
Beschreibung
Angels of Death jetzt günstig als Steam Key kaufen. Vergleiche die Preise aller Keyshops und spare beim Kauf eines Angels of Death Game Keys.
Caution
This game is made by RPG Maker, so the engine's exclusive feature is available as shown below.
If you want to take a screenshot using Steam Overlay feature, please change the key to the key other than F12.
F12: Reset the game
Alt+Enter: Full screen / Window mode



"Please – kill me."
"If you help me get outta here, then I'll kill you."

Their strange promise formed a peculiar bond between the two of them.
What kind of hell have they found themselves in?
For what purpose are they imprisoned? What does fate have in store for them?
Facing imminent death, the two begin their escape from the sealed building!

From the creator of the famous horror game "Kirisame ga furu mori" (Forest of Drizzling Rain), comes "Angels of Death" which was released in the Den-fami Nico Game Magazine and is now available worldwide!
"Angels of Death" is a psycho horror adventure game, which consists of four episodes.

WARNING: Some material may be inappropriate for children.

The Japanese version was published as freeware, and the Steam version is to support the developers.

 
Consisting of 4 episodes, each containing an entertaining and dark story - A storytelling style that is designed full of 2D game technology
A psycho horror with a crazy serial killer
A variety of missions, including "shooting" and "escape" themes.
4 games – each an episode in the story – released in one package




"Angels of Death" follows the psycho horror story of Ray and Zack as they attempt to escape the world they are in.
Where are they? What is going on? Without knowing the answer to so many questions, they have no choice to trust each other and push forwards for their own personal goals.




When Ray woke, she was in a concrete room with no memory.
After leaving the room, she explored the building, searching for an exit. But she eventually crossed paths with Zack, a large man with a scythe.

Fearing for her life, Ray managed to escape from Zack and rode an elevator up…



Ray and Zack step into floor B3 – a contemporary floor with dazzling white walls.
A bizarre woman's howling cackle rang out from a speaker in the ceiling.

"Oh godless wretches. You shall writhe in agony until forgiven."

The insane prison guard makes an attempt to expose the weakness in Ray and Zack's promise by putting them through a series of sadistic tortures.
Will they remain faithful to their promise as they fight for their lives?



Dragging an unconscious Zack, Ray finds herself on floor B2, which has the interior of a cathedral.

The sound of a pipe organ echoed around the floor, along with a curious, sweet fragrance which permeated the air. Strange writing emerged on the walls, demanding that Ray repent for her sins.
Despite all this, she kept pushing forwards, determined to keep her promise with Zack…

Soon after, Ray met a priest in the depths of the cathedral…



Ray and Zack arrive on B1 only to find themselves inside a house. Upon entering the bloodstained living room, Ray lost her mind.

"Please, Zack, hurry and kill me! Before you know too much!"

Confused by Ray's outburst, Zack left the now fainted Ray to lie down. After hearing repeated knocking on the door, Zack left to explore the house.

While avoiding countless traps set in the strange house, Zack learnt more about Ray's past.
But was he prepared for what awaited him at the end?

Could they protect their promise and escape from the building alive?

Official Site: https://gamemaga.denfaminicogamer.jp/satsuriku/en/
© Makoto Sanada/dwango . Licensed to and published by Active Gaming Media, Inc.
Key-Aktivierung
Um einen Key bei Steam einzulösen, benötigst du zunächst ein Benutzerkonto bei Steam. Dieses kannst du dir auf der offiziellen Website einrichten. Im Anschluss kannst du dir auf der Steam Webseite direkt den Client herunterladen und installieren. Nach dem Start von Steam kannst du den Key wie folgt einlösen:
Klicke oben im Hauptmenü den Menüpunkt "Spiele" und wähle anschließend "Ein Produkt bei Steam aktivieren...".



Im neuen Fenster klickst du nun auf "Weiter". Bestätige dann mit einem Klick auf "Ich stimme zu" die Steam-Abonnementvereinbarung.



Gebe in das "Produktschlüssel"-Feld den Key des Spiels ein, welches du aktivieren möchtest. Du kannst den Key auch mit Copy&Paste einfügen. Anschließend auf "Weiter" klicken und das Spiel wird deinem Steam-Account hinzugefügt.

Danach kann das Produkt direkt installiert werden und befindet sich wie üblich in deiner Steam-Bibliothek.
Das Ganze kannst du dir auch als kleines Video ansehen.